Day 1 of the English Nationals in the pool and Wigan BEST swimmers continue to collect medals. The 15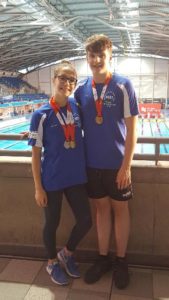 year-old 100m Breaststroke saw Jennifer Green from lane 2 power her way to a superb gold medal in an excellent time of 1:14.61.
The second medal of the evening came in the 18 and over mens 400m IM. Following a magnificent heat swim were James reduced his best time by 2 seconds he went in to the final determined, swimming 4 strong strokes he came home in bronze medal place reducing his time by a further 3 seconds to 4:40.16.
A little over an hour later Jennifer was back in action in the 400m IM where again she pulled off a magnificent lifetime best in taking the silver medal in 5:08.58. In the ladies 17 and over 400m IM two more BEST swimmers were in action Hannah Sheehan took an excellent 8th with Mattea-Jay Oliver coming home 9th.