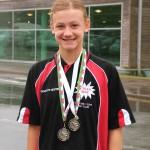 The Welsh Nationals have once again proven to be an excellent meet for our swimmers with superb personal best times being made, and 9 medals for our swimmers. Charlotte Nester came away a brilliant 4 medals in the 11 year-old girls age group and proving that she will be one to watch out for a next year's English Nationals, if her 100m breaststroke is anything to go by finishing in 1:22.00 inside this years 12 year-old National mark. In the shorter event she proved she has the speed posting 37.18 and snatching the gold medal with a 2.75 second drop in her personal best. Another silver came Charlotte's way in the 200m IM where she dropped her pb by a massive 3.63 seconds to take a silver medal. Showing her talents in the 100m Backstroke Charlotte pushed hard and came home with the bronze. This proved to be a very successful week making new personal best in every event she competed in.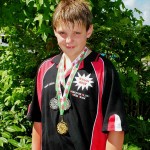 James Cross really came into his own in Swansea making some unbelievable improvements in his personal best and taking home 3 medals in the process. Without doubt 1500m is looking like one of James best event's at the early stage of his career with a massive 44.78 improvement as he powered his way down the last 100m finishing as he went out taking the silver in a time of 18:45.95 which like Charlotte put's him inside the current National Qualifying Time. In the 12 year boys 400 IM an improvement of 13.56 seconds gave him a fantastic gold medal. In the 200m backstroke another fantastic swim and an improvement of 6.17 seconds gave him his 3rd medal of the week a bronze medal in 2:31.89. In all James produced his personal best in every event that he swam.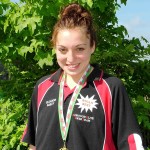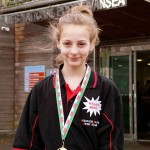 Joining the swimmers later in the week Ellie Bailey took a great gold medal in the 15 years girls 100m butterfly 1:06.39, in the heats saw another Best swimmer inside the 2012/13 English National Qualifying time with a 1:05.66. Another one of our 12 year-olds Greta Hampson who had competed in the 200m Butterfly in the National Age Groups in Sheffield and then made the long journey to Swansea to compete in the Welsh event came away with superb results. in the 12 years 400 IM Greta powered her way to victory with a 5:29.34 taking a brilliant 6.07 seconds of her previous best. In the 800 freestyle she took a massive 40.37 seconds off her pb. Not only that she made new pb through the 100m, 200, and 400m mark on her way through to taking 7th spot in the 800m event.
Andy Plummer was on form making new pb's during the week in several events, but became known as the nearly man, just missing bronze four times. Katey Cooper was on form coming away from Swansea with several pb's in the 12 year girls events making 6 second improvement in her 400 free, 2 second pb in her 100m breaststroke. Dalton Reid produced his best times in the 100m fly and 50m freestyle. Mitch Walmsley lowered his pbs in several events in doing so made the final in the mens 200m IM, 100m & 50m Back. Good performances also came from Naomi Hughes and Emily Hall.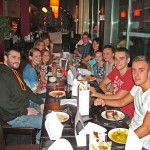 On behalf of the club I would like to congratulate all swimmers on their achievements and lets now build on these and lets rise to the next level. Also I would like to thank Rob for his excellent work throughout this long week a job well done. Also a big thank you to Arthur Hughes who has supplied the pictures for the club.