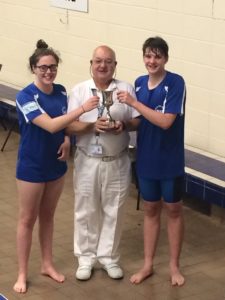 Well done to all the swimmers who took part in the final of the Arena League last Saturday 10th December 2016 and helped the club to victory and secure a place in Division 1 next year.
Again we saw some fantastic performances from everyone over the 3 rounds with a fantastic team atmosphere, which I am sure helped the swimmers produce their BEST.
I would like to thank Chris for his support not only for his leadership on the poolside but for the hard work leading up to the event, not an easy job picking teams and juggling the team around. To Lee Braddock who works as the delegate and co-ordinator for this event for the club. Rachel Nester, Kate Williamson, Stuart Gower, Troy Leese, who have supported the club with various jobs during the events. My apologies to anyone I have missed, without parents support the club would not be were it is now.
Next year we will be competing in division 1 pushing for a move to the premier division for 2018. To do this we are going to need the support of everyone and we need to ensure swimmers are available to compete if we are going achieve our 2018 target.
Well done everyone!!!!