The opening day of the English Nationals saw the 17 and over ladies qualify for the 400m Team final. In a very tough and close race throughout Wigan BEST quartet of Jess Sloan, Phoebe Vaughan, Rachel Byrne and Holly Jackson powered their way to a fantastic victory taking the gold medal ahead of the team from Beckenham.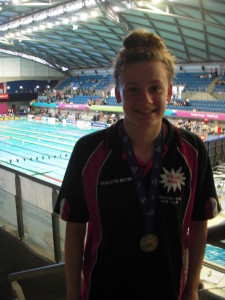 Inspired by the girls effort's on day1 the team went on to produce some excellent individual performances throughout the week.  14 year-old Charlotte Nester fought her way to the final of the 50m Breaststroke, in the evening final Charlotte produced her best swim to date reducing her personal best time by over 1.5 seconds which gave Charlotte her first National title winning in an excellent 34.26. Following on from this success Charlotte went on to an excellent 5th place in the 50m Backstroke and 9th in the 400m Individual Medley.
Team-mate Imogen Bailey secured her first ever place in a National final in the 14 year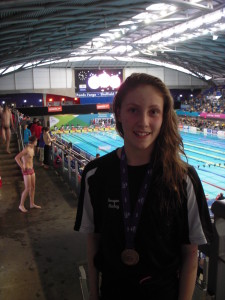 girls 200m Butterfly where she went on to finish strong down the last 50m taking the bronze medal and personal best time of 2:27.71.
14/16 boys 400m Freestyle Team of Declan Hall, Matthew Silvester, Harley Beentjes and James Cross came into the event as 14th fastest team. The boys swam an excellent heat securing a place in the final and then produced their best ever swim finishing in a fantastic 5th place.
In the 16/17 years Ellie Bailey came away with two excellent performances finishing in 9th place in the final of both the 50m and 100m Butterfly. 7th places where achieved by Dominic Suggitt in the mens 200m Individual Medley in the ladies 100m Butterfly Rachel Byrne matched Doms 7th place with an excellent 1:04.62. Melissa Braddock came away with 4:39.39 in the 15 years 400m Freestyle and a 7th place. In the girls Breaststroke we saw 12 year-old Jennifer Green make her first National final and take an excellent 8th place in the 12/13 years age group. In the 200m event Katey Cooper took a great 10th place in the 14 years age group.