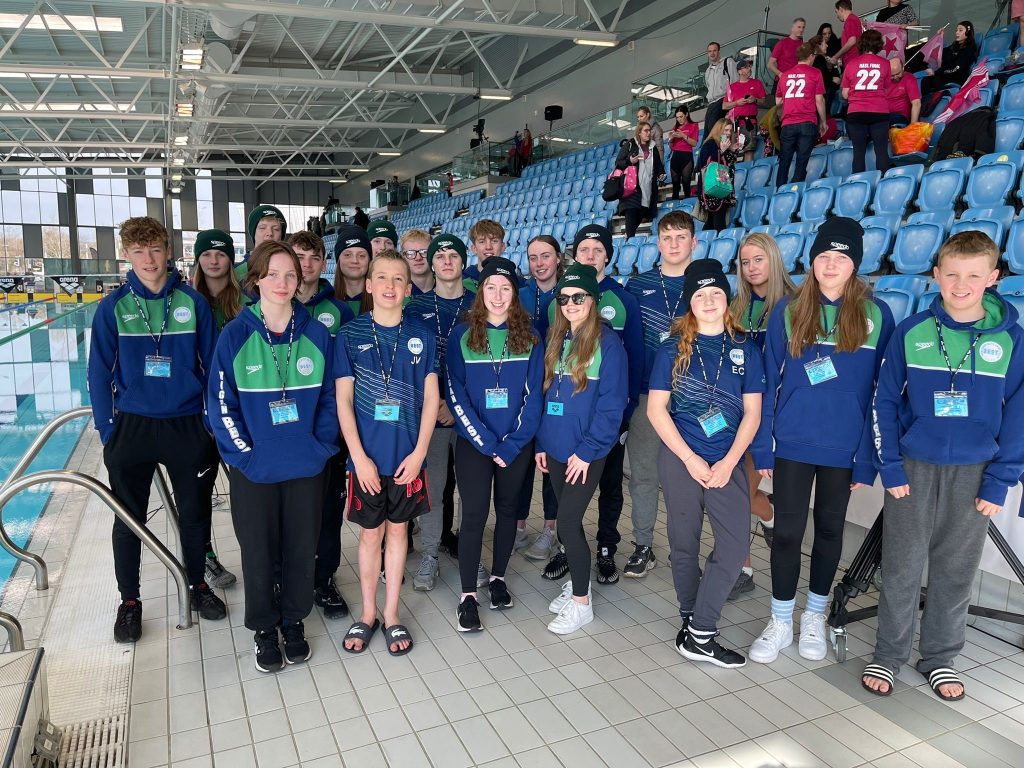 Congratulations to our swimmers who travelled to Cardiff for the 52nd National League "A" Final and did Wigan BEST proud. Up against Plymouth Leander – Millfield – Guildford City – Mount Kelly – Wycombe – Bromley – City of Cambridge – City of Leicester – some of the top clubs in the country we certainly were always going to find it tough. However our team of
12 & Under – Jorja Howard, Gracie Smith, Anya Foxwell, James Vaughan, William Ashcroft, Daniel Barton.
14 & Under – Evie Cutter, Isobel Liptrot, Alice Holt, Joshua Hayes, Matthew Sawers, Ethan Arris-Hayes.
16 & Under – Lydia Swindell, Anna Healey, Aimee Crompton-Hesford, Eve Horton, Sam Grimes, Charlie Collins, Daniel Jones.
Open Age – Rachel Hornby, Olivia Sheehan, Matthew Tinkler, Matthew Haynes.
were not phased at all by the electric atmosphere and gave a heroic account of themselves from start to finish.
Always in the mix in some very close races from event 1 to 15 then came event 16 and our first win with James Vaughan taking top spot in the 11/12 50 fly 36.6 the very next event and our second win from Isobel Liptrot in the 13/14 years 100 Backstroke 1:06.14 two seconds clear of her nearest rival.
With many fine swims to follow the team went on to finish 8th with the private school Mount Kelly taking top club.
Finally a very big thank you to Mel Vaughan and James Collins for their brilliant work with the swimmers throughout the day ensuring they were in position at the correct time and attending to the swimmers needs. To Kate Williamson who made the trip to Cardiff as a technical official on behalf of the club Kate made the effort even though her own children are no longer involved with the club. If she had not done so we would have been disqualified for not meeting the obligation of proving the officials for the event Of course a massive thank you to Chris for all his efforts and work with this swimmers not only on the day but the preliminary regionals rounds and for the behind the scene organisation as always this success would not be possible.