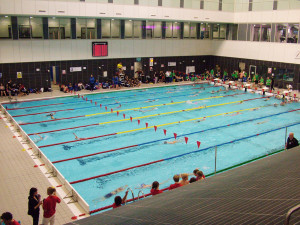 Wigan BEST works in partnership with Wigan Council BEST Swim Squad who provide the elite training program for the swimmers of the Borough under the guidance of the Head Coach utilising the excellent  facilities of the Borough. The Squad provides elite training sessions throughout the Borough.
Due to the number of hours and pool space required by an elite swim squad it does mean the program does have a major impact on facilities, to alleviate the pressure on facilities the squad does use a number of sites within the Wigan Area.
Wigan Life Centre:- Is a newly purpose built 8 lane 25m pool which Wigan Council BEST Swim Squad has the majority of it's sessions. The building is modern and set in the heart of Wigan. Providing the elite swimmers with excellent facilities to excel.
Howe Bridge Sports Centre is on the East side of the Borough situated between Atherton and Leigh, it is again a purpose built pool with 6 * 2m lanes and is 25m. Has excellent facilities for  squads junior Land-Training program.
Leigh Sports Village situated approximately 3 miles from Howe Bridge this excellent modern facility houses a 6 lane 25m pool along with excellent dry land facilities  for the senior swimmers of Wigan Council BEST Swim Squad.
Ashton Leisure Centre is a 4 lane 25m pool which provides an excellent venue for the Junior Members of the elite programme. The pool is situated on the West side of the borough approximately 5 miles from Wigan town centre.